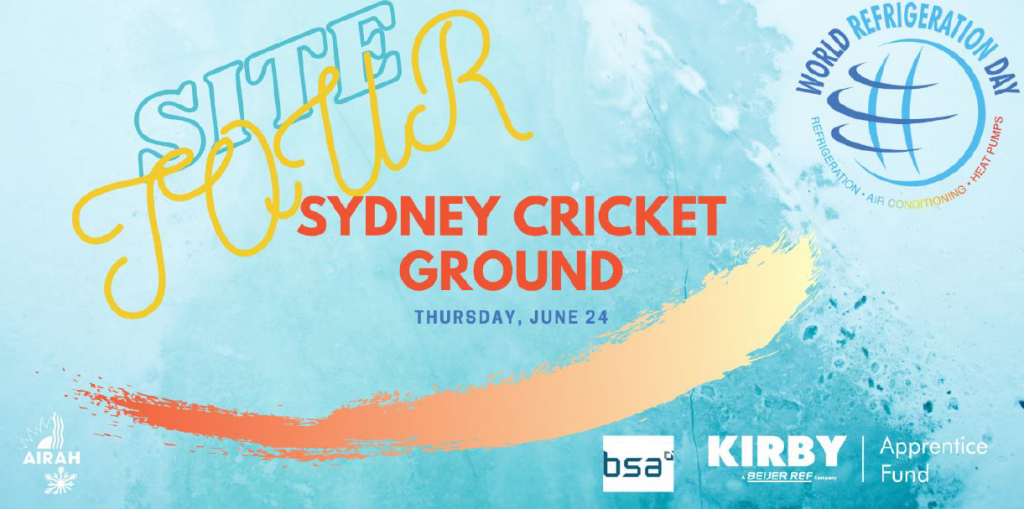 AIRAH invites you to join us for a site tour of the Sydney Cricket Ground for WORLD REFRIGERATION DAY 2021!!
In conjunction with BSA Ltd, Venues NSW and Kirby HVACR we welcome you to join us for THE "COOLEST" DAY OF THE YEAR and be a part of this very unique opportunity to not only see behind the scenes of the world famous and historical Sydney Cricket Ground but also the IMPORTANCE of refrigeration and air conditioning at such a venue.
You will not only get up close and personal with live operating keg rooms, cool rooms, beer systems, chillers and air handling units but also have a deeper understanding of why these systems are so crucial to not only the SCG but all our daily lives.
Additionally, you will get a first-hand tour of corporate boxes, media rooms and the picturesque members stand including the home change room – with some extraordinary locations for photos throughout.
Please join us in creating awareness of such a crucial but HIDDEN industry.
WHEN: Thursday, June 24
SESSION 1: 10am – 11:30am
SESSION 2: 12:30pm – 2pm
Numbers are strictly limited. Access to your registered session ONLY.
WHERE: Sydney Cricket Ground, Driver Avenue, Moore Park NSW
WHO: This site visit is aimed at both TAFE and University students and those considering a career in the HVAC&R industry.
REGISTER FOR YOUR SESSION NOW!
For registration assistance or for further details, please contact Mel Sibraa at melanie.sibraa@airah.org.au
We all look forward to seeing you there!