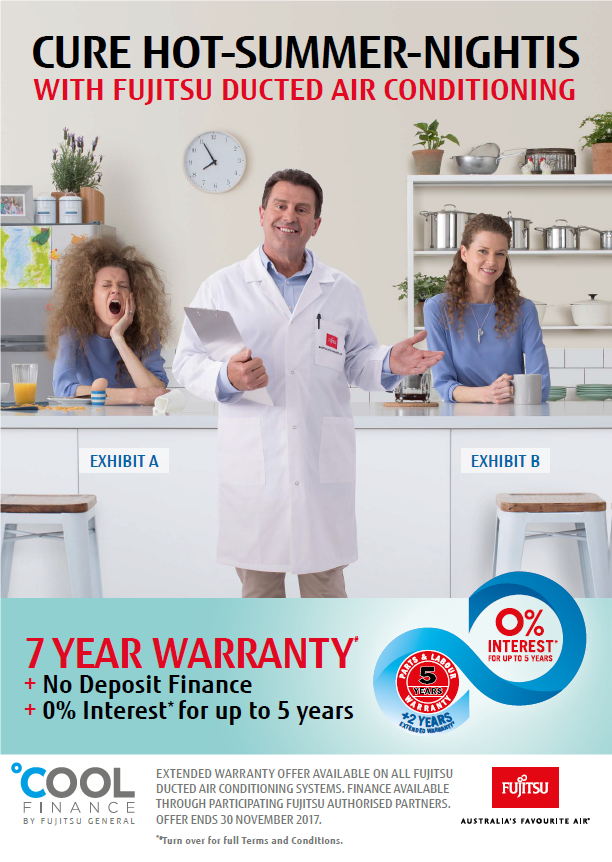 Fujitsu General are running a new promotion in the lead up to the summer.
The 'Cool Finance' promotion commenced on Tuesday, offering customers who purchase a Fujitsu General Ducted Air Conditioning System to take up Cool Finance with no deposit and zero percent interest*, for up to five years. This means that the customer can choose 24, 36 or 60 months interest free finance.
In addition, Fujitsu General will again be offering a bonus two-year extended warranty# on top of the standard five-year full parts and labour warranty, subjected to online registration by 30 March 2018.
General Manager Sales and Marketing, Dave Smith, emphasised that this promotion will provide Fujitsu General's Authorised Partners and customers with flexibility in choosing a system and hopes that it will be successful as the previous year's summer promotion.
"The Fujitsu General Cool Finance promotion provides our Authorised Partners and customers more flexibility when choosing a Fujitsu General Ducted Air Conditioning System.
"We hope the 2017 Summer Promotion will follow the success of 2016, which saw a 54 percent increase in applications from the previous year. We have evolved the offer to give customers even more choice."
Fujitsu General will be supporting the 2017 Summer Promotion with a multi-million dollar integrated marketing campaign. The campaign theme focuses on "cure hot summer nights" and features long-term ambassador and former Australian cricket captain, Mark Taylor. Seen in a breakfast home setting with two scenarios, Mark shows the difference between a family waking up in the morning after a hot summer nights' sleep without air conditioning, compared to one with air conditioning.
The promotion will be supported by in-store point of sales materials and a national advertising campaign including TV, cinema, radio, print and digital.
More information on the Cool Finance promotion can be found here.
This story and the accompanying image were provided courtesy of WriteAway Communication + Events. This story was edited slightly prior to publication.