This article was published in the October 1974 edition of Celsius. The author is unknown.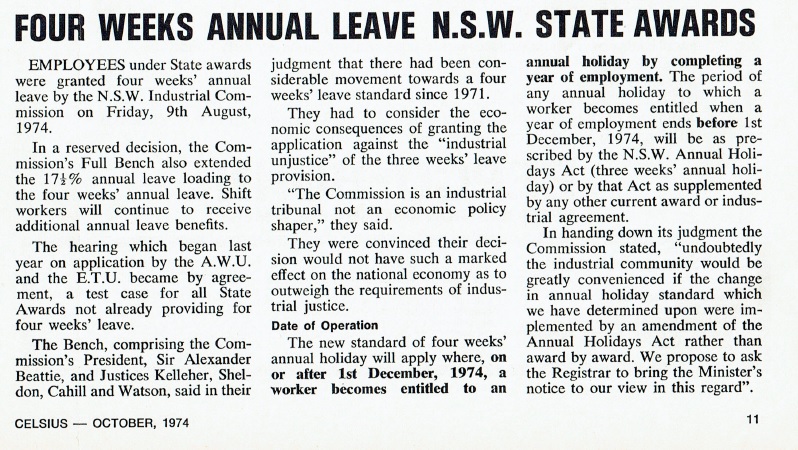 Employees under State awards were granted four weeks' annual leave by the NSW Industrial Commission on Friday, 9th August, 1974.
In a reserved decision, the Commission's Full Bench also extended the 17.5% annual leave loading to the four weeks' annual leave. Shift workers will continue to receive additional annual leave benefits.
The hearing which began last year on application by the AWU and the ETU became by agreement, a test case for all State Awards not already providing for four weeks' leave.
The Bench, comprising the Commission's President, Sir Alexander Beattie and Justices Kelleher, Sheldon, Cahill and Watson, said in their judgment that there had been considerable movement towards a four weeks' leave standard since 1971.
They had to consider the economic consequences of granting the application against the "industrial unjustice" of three weeks' leave provision.
"The Commission is an industrial tribunal not an economic policy shaper," they said.
They were convinced their decision would not have such a marked effect on the national economy as to outweigh the requirements of industrial justice.
Date of Operation:
The new standard of four weeks' annual holiday will apply where, on or after 1st December 1974, a worker becomes entitled to an annual holiday by completing a year of employment. The period of any annual holiday to which a worker becomes entitled when a year of employment ends before 1st December 1974, will be as prescribed by the NSW Annual Holidays Act (three weeks' annual holiday) or by that Act as supplemented by any other current award or industrial agreement.
In handing down its judgment the Commission stated, "undoubtedly the industrial community would be greatly convenienced if the change in annual holiday standard which we have determined upon were implemented by an amendment of the Annual Holidays Act rather than award by award. We propose to ask the Registrar to bring the Minister's notice to our view in this regard".
Image via Celsius Magazine (October 1974)