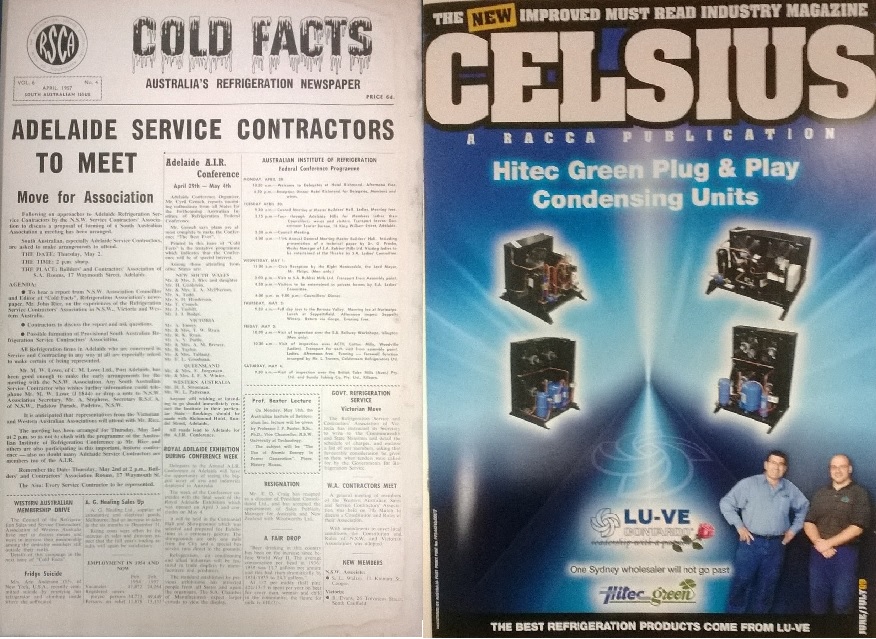 Image via RACCA NSW
Cold Facts
In 1957 RACCA Founder, John Rice, and a few contractors began to issue a couple of stapled 'Roneo' sheets of information to RACCA members. As time went on, John managed to secure a few advertisements and began to produce a type of broadsheet newsletter each month.
As Editor, John invited members to contribute articles. Unfortunately his health began to suffer and after his wife passed away, he found that the original "Cold Facts" was too difficult to continue. John sold the paper to a publishing house, with the provision that RACCA news would be printed and RACCA would receive copies for circulation to their members. After John's death, RACCA executives across the country decided to start again with a RACCA-specific publication.
Celsius
After John passed away, seven people met in Sydney at a small air conditioning company managed by Neal Vagg, to discuss the possibility of the RACCA-specific publication. Born out of the old "Cold Facts" this new publication was to be totally Australian, with information for the RACCA members and the industry.
Celsius' first issue was published in December 1972 and was a monthly periodical (12 issues per year), totally owned by RACCA Australia. It was a bold move to print the first issue in two colours, however the support from advertisers was immediate, ensuring its success and proving the necessity of such a publication.
Celsius provided information on a wide range of issues affecting all involved in the HVACR Industry. The areas that Celsius covered included industry and product news, as well as special features.

Celsius folded in 2012 due to a fall off in advertising and many magazines in the industry.
RACCA Newsletters and the RACCA Australia Website
Industry news is now distributed to RACCA members by state newsletters, as well as on the RACCA Australia website.