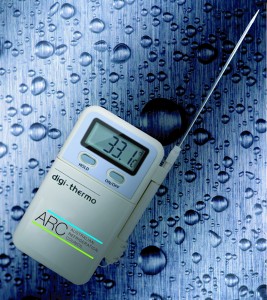 Trainee licence holders undertaking the first year of a refrigeration and air-conditioning (RAC) apprenticeship will be supplied with a digital temperature sensor that will be available for free, courtesy of the Australian Refrigeration Council (ARC).
This initiative is one way the ARC supports the training and development of future RAC technicians.
Kevin O'Shea, Chair of the ARC RAC Industry Board said that the idea was to give first year apprentices a tool that was not only practical in their day-to-fay work, but also acted as a reminder about the importance of climate control and the environment.
"Maintaining the right temperature is critical to our industry. Temperature is also a factor in system diagnostics and can help to determine refrigerant leaks and other faults.
"The ARC licence scheme promotes high quality work through a skills-based licence. It also encourages professionalism through properly equipped and staffed businesses and promotes an awareness of the environment. Providing licensed trainee holders with digital temperature sensors makes a lot of sense and will hopefully contribute to producing high quality RAC professionals of the future."
The ARC digital temperature sensors will be available on request from the ARC from July to August 2018, while stocks last. If you're interested in the digital temperature sensor for your apprentice, you can email the ARC at enquire@arctick.org.
This story and the accompanying image was provided courtesy of the Australian Refrigeration Council.