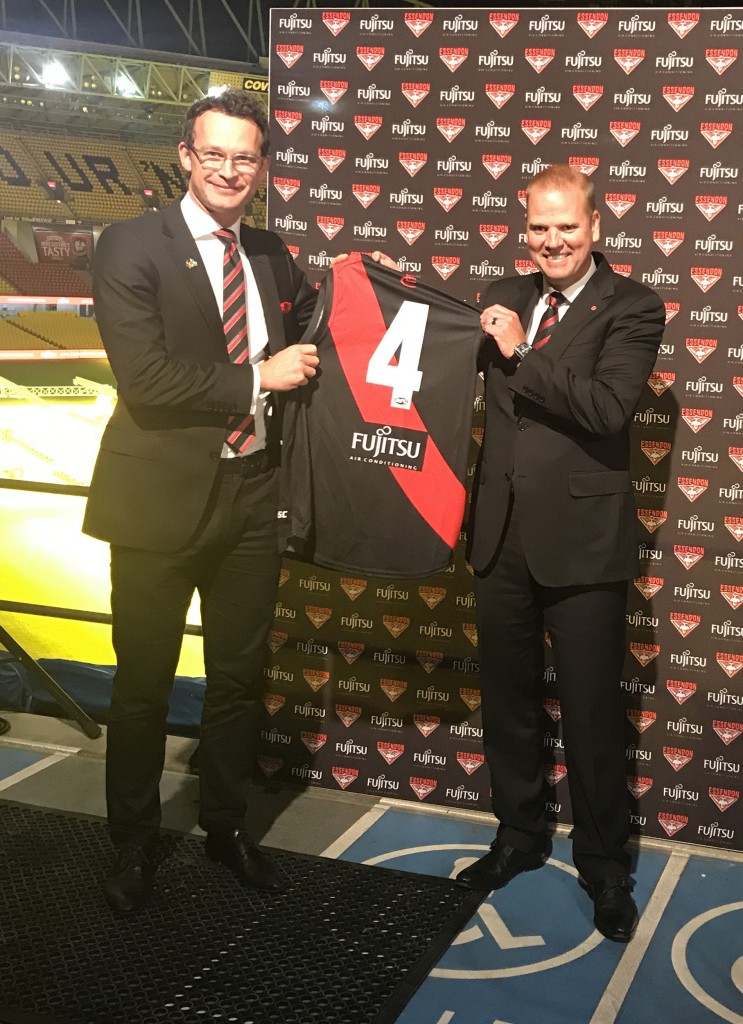 Fujitsu General have recommitted to the Essendon Football Club for the next four years.
Managing Director of Fujitsu General Australia, Philip Perham, announced at a press conference last week that Fujitsu General had renewed its contract with the Essendon Football Club until 2021, and emphasised the importance of their partnership being based on common values, especially when it comes to the community.
"Fujitsu is proud to continue as co-major partner of the Essendon Football Club. The partnership is one based on common organisational values, and is in line with Fujitsu General's focus on giving back to the community through Australian sport and other community initiatives.
"Fujitsu is hugely supportive of the great work the Club does in the community with outreach programs centred on four key areas: Indigenous, Multicultural, Youth and Education, as well as grass roots community programs.
"From the perspective of brand awareness, member and fan engagement, and business development, there have been substantial gains made and relationships built through the Clubs' national business network over the past three years. This partnership presents Fujitsu with the opportunity to engage with the Club's 65,000 plus members and with this season's strong game attendance we see a future full of promise for the new generation Bombers."
To date, Fujitsu has provided its customers and consumers with numerous opportunities to be part of the sponsorship program. Customer have enjoyed rewards that have included travelling with the team, as well as building business relationships, while consumers have had opportunities to win 'money can't buy experiences' to engage with their sporting heroes, as well as participate in fun game day activations.
The renewed contract confirms Fujitsu General will remain on the Club's playing guernsey as co-major partner for the 2018 to 2021 AFL seasons.
This story and the accompanying image of Essendon CEO, Xavier Campbell, with Managing Director of Fujitsu General Australia, Philip Perham, were provided courtesy of WriteAway Communication + Events. This story was edited slightly prior to publication.