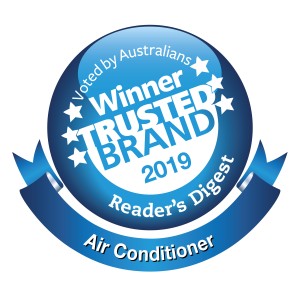 For the second consecutive year Australia's Favourite Air®, Fujitsu General, has been voted the Reader's Digest Most Trusted Brand: air conditioning.
"Fujitsu is committed to providing high quality, energy efficient, reliable products as well as exceptional customer service," said Dave Smith, General Manager – Sales and Marketing, Fujitsu General Australia. "We are honoured to be recognised as Australia's most trusted air conditioning brand for the second year running."
"Fujitsu General is celebrating 45 years in the Australian market this year. We believe the brand's success aligns with our philosophy of creating a wholistic customer care experience, recognising that reliability and high quality doesn't start and end with products and features. It's being there for the entire customer journey by offering the best possible assistance throughout the life of their air conditioning system.
"Fujitsu General will continue to develop superior quality air conditioning systems, while also providing unprecedented customer service with our dedicated in-house customer care and technical support team."
The 20th Reader's Digest Most Trusted Brands awards asked Australian consumers for opinions on what products and services are most important. The results reveal the country's attitude on the most trustworthy brands.
This story and the accompanying image were provided courtesy of WriteAway Communication + Events.