This ARBS 2010 special feature was published in the April 2010 edition of Celsius. The author is not listed, however Bernadette Borg was the editor of Celsius at the time.

This year's ARBS Exhibition will be held at the Sydney Exhibition and Convention Centre, Darling Harbour, from 12-14 April. At the Southern Hemisphere's biggest HVAC industry event, more than 10,000 visitors will attend over three days, intent on hearing the latest from an international panel of experts, and visiting the Exhibition to see the latest products and converse with their peers.
"This year's seminar speaker line-up is one of our best ever," Exhibition Manager, Sue Falcke said.
"We have Australian and international experts talking about key issues facing the industry including climate issues and energy efficiency, along with a variety of others. It's also the year that we're launching the ARBS Industry Awards, which we're all very excited about."
The ARBS Industry Awards will put the spotlight on the exceptional talent in the industry. Finalists are already listed on the ARBS website and winners will be announced at the gala dinner on 13 April.
The seminar series comprises more than 40 seminars and workshops. The keynote speaker, Professor Sue Roaf from the UK, will educate attendees on what she calls "the coming age of dark cities" and discuss how to avert this threat by building robust, resilient and low risk buildings. Other international speakers include: Mr Roderic Bunn talking about the Soft Landings framework and Dr Bill Bordass, who will bust some myths about building performance and discuss the science of buildings, energy and carbon.
More than 250 exhibitors will show their latest and most popular products and share information on product selection, installation and best practice. For many, attending the event is the best way to network with suppliers and peers.
"It's a great place for contractors, tradespeople and manufacturers to catch up," RACCA Australia President, Kevin O'Shea, said. RACCA has been involved with ARBS since its inception and Mr O'Shea is impressed that each event is bigger and better than the last.
"It's a winning formula, where there's always something new to catch your attention."
Mr O'Shea says it's testament to the value of the exhibition that even in the wake of the global financial crisis, exhibition space and registrations have held steady or increased over previous years.
For exhibitors, ARBS is the place to launch new products. Paul Keedle, National Sales Manager at Javac, describes it as "a key channel to market".
"With great exposure to lots of national and international visitors, it's a great way for us to demonstrate our products in the flesh," he said.
Javac has been exhibiting at ARBS "for more years than I can remember", and Mr Keedle has seen the Exhibition grow and become more streamlined.
"It's a very effective way for people to access many, many products."
At this year's Exhibition, Javac will launch a new product, RECO GT, a recovery system designed for large plant and equipment.
Heatcraft too is a long time exhibitor at ARBS and Leon Miller, General Manager Sales–Australia and New Zealand, says it's because it's in everyone's best interests to attend.
"Fundamentally, this is our life blood, and everyone in the industry owes it to each other to put in a good effort here, to share knowledge, to learn best practices and to enjoy the convenience of catching up on everything under one roof."
As usual, ARBS 2010 will host the national finals of the refrigeration and air conditioning trades section of the WorldSkills Competition, and this year's attendees can not only watch our up-and-coming tradespeople in action, but can also opt to buy one of the mobile beer fridges constructed as part of the finals tasks!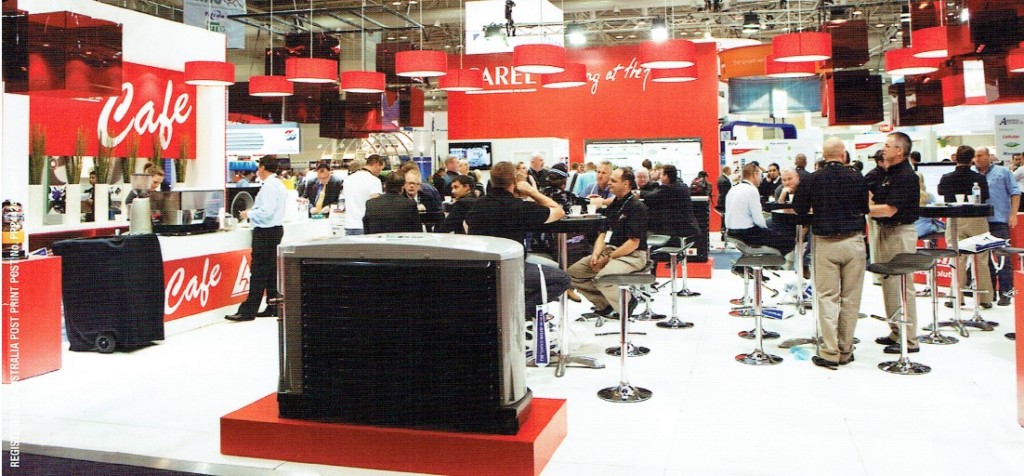 Images of Actrol stand at ARBS 2010.
Image Source: Celsius Magazine (May/June 2010)