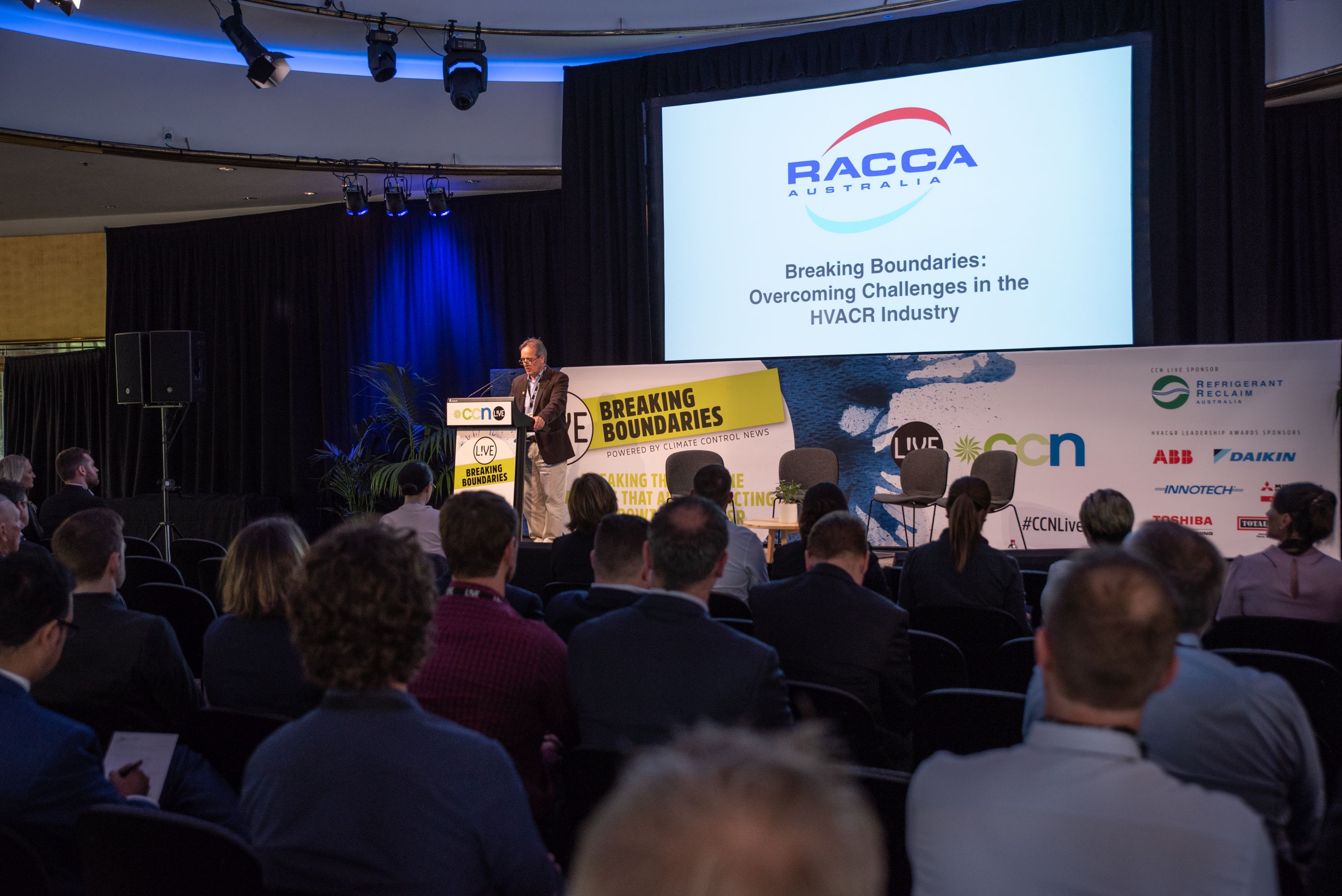 Congratulations to the winners of the 2018 HVACR Leadership Awards that were announced last Thursday at CCN Live in Melbourne. Sponsored by Refrigerant Reclaim Australia, the half-day conference event welcomed over 100 attendees into the Melbourne Arts Center.
Our very own RACCA Australia President, Kevin O'Shea, was invited as guest speaker to discuss the challenges our industry faces.
Key points of discussion:
Insufficient literacy and numeracy skills of school-leavers: 
Declining literacy and numeracy comprehension rates in school-leavers negatively impacts the working capabilities of apprentices to carry out and complete tasks.
Streaming and skill-stacking:
The emerging industry trend towards skill specialisation is a disadvantage as it hinders transferability for tradespeople. In contrast, equipping apprentices with a varied skill set enables workers to move across the industry and handle projects that require different equipment.
Future of training: 
The institutional decision to shorten apprenticeship training hours is detrimental to sufficiently preparing apprentices for the job.
Lack of cohesion across HVACR associations:
It is difficult to resolve industry concerns when no consensus can be reached due the fragmentation in representation by associations.
Industry visibility:
Refrigeration and air conditioning is largely invisible as an industry. This makes it difficult to attract those entering working age as they begin to consider future career options.
Gender:
Women are just as capable of success as men in HVACR. 2001 World Skills international champion Stephanie Bugg is a remarkable testimony of this. Current changing practices herald equipment that is easier to lift, with further tools that assist, to create environments that are no longer reliant on brute strength.
Attracting youth:
Introducing STEM into K-12 school environments means children will develop an earlier awareness of what refrigeration and air conditioning contractors do and perhaps pique some interest into the young minds of the future.
Further information about the event can be found here.
If you would like a copy of the presentation by Kevin O'Shea, please email info@racca.asu.au.
RACCA Australia will be working to try to address some of these issues in future. If you would like to share your thoughts on any of the above points, please feel free to contact us on Facebook, Twitter, Linkedin or via info@racca.asn.au.