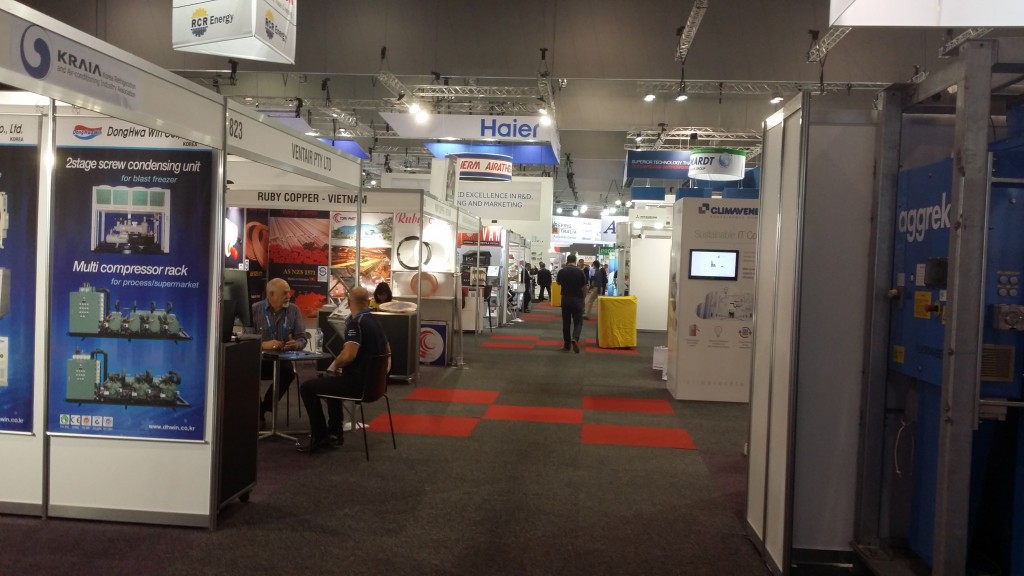 ARBS 2016 kicked off and opened its doors to an eventual total of 3020 visitors. According to ARBS' official website, a new record of exhibitors was set with 323 exhibitors at ARBS 2016, an increase from 274 in 2014.
RACCA Australia Committee Members were in attendance catching up with industry colleagues and spreading the benefits that is RACCA membership to visitors. RACCA QLD President, Brian Vaughan, RACCA QLD Secretary, Jim Cannon, RACCA VIC President, Robert Taylor and RACCA Australia President, Kevin O'Shea, were at the stand on Day One. The pinball machine at the stand attracted a lot of interest to visitors.
Seminars had been scheduled across the three days, with six being held on day one which were:
A panel on the WELL Building Standard
Updates to Standard AS/NZS 1668.1
A Great Future in Store—how natural refrigerants continue to evolve in commercial refrigeration.
Low Charge NH3 Refrigeration Systems
A panel on Innovation in FM
HVAC&R Fan Upgrades—energy efficiency and maintenance costs.
According to the ARBS website the panel on the WELL Building Standard focused on the Standard being adopted in Australia and what it would mean. The AIRAH-hosted seminar on the updates to the AS/NZS 1668.1 focused on providing detailed information on the Standard's changes to those within the industry. The Great Future in Store seminar focused on the use of natural refrigerants in supermarkets. The Low Charge in NH3 Refrigeration Systems seminar focused on five practical examples of the System reducing energy consumption in refrigerated warehouses. The panel on Innovation in FM focused on emerging ideas in FM, specifically: BIM, energy management, outsourcing and asset lifecycle planning. While the HVAC&R Fan Upgrades seminar focused on the retrofit of high efficiency fans in existing equipment to reduce energy consumption.
As well as seminars, product presentations were also scheduled across the three days, with seven being held on Day One which were:
Testo Smart Tools—The future of HVAC&R Engineering (Testo)
Designing Kitchen Exhaust Systems to be Compliant, Safe & "Right" (Airepure Australia)
The Perfect Combination (Bitzer Australia)
A mobile-first approach to driving productivity and customer satisfaction (Pronto Software)
The Power of Data Mining for Buildings (IESTEC)
Parker ZoomLock Program—Imagine Life without brazing (Parker Hannifin)
Inverter Technology—Application for Commercial DX Air Conditioners (Dunnair)
According to the ARBS website, the Testo presentation focused on their new range of Smart Probes. The Airepure Australia presentation focused on design fundamentals for correctly designed kitchen exhausted systems. The Bitzer Australia presentation focused on their Buffalo Tridents PS Series Evaporators. IESTEC's presentation focused on cloud based data mining as well as case studies, and Dunnair's presentation focused on their rooftop packaged units, which were launched at the previous ARBS. Rachel, RACCA Australia's Administration Assistant attended Dunnair's presentation.
Image via RACCA NSW.