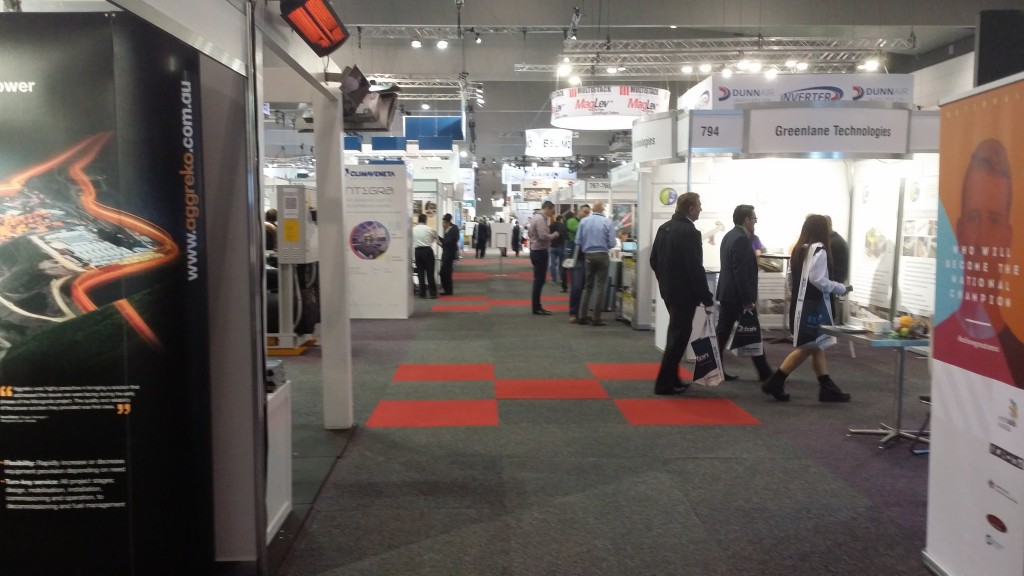 Day 2 of ARBS 2016 opened its doors to an eventual total of 3677 visitors, which would be the highest number of visitors across the three days.
RACCA Australia Committee Members were again in attendance ready to draw in some visitors. Visitors were again drawn in by the Pinball machine, being encouraged to beat the Committee Members' high scores (yes, some of the Committee Members became a little addicted to playing it!)
Five seminars were scheduled on Day 2, they were:
A panel on Digital Disruption
Automated Fault Detection Tools for HVAC Systems
BIM to Pre-Fabrication—Designing to get the Pre-Fab Benefits
Australian Leadership in Geothermal Technology for Residential Projects
HFC phase-down in Australia—an update on the Montreal Protocol and the review of the Ozone Protection and Synthetic Greenhouse Gas Programme
According to the ARBS website, the panel on Digital Disruption focused on how technology benefits and affects the building industry. The Automated Fault Detection Tools for HVAC Systems seminar focused on the latest software tools and techniques for achieving automated fault detection, in regards to commercial building HVAC system. The BIM to Pre-Fabrication seminar focused on designing for offsite manufacturing of HVAC as well as other building services systems. The Australian Leadership in Geothermal Technology seminar focused on the Fairwater Community, Australia's largest geothermal community which was launched last year and the HFC Phase Down seminar focused on Australia's progress and efforts to reduce HFC emissions.
As well as the five seminars, there were seven product presentations scheduled, which were:
Samsung Electronics Drives Paradigm Shift in Air Conditioning Technology (Samsung Electronics Australia)
True Values: the new RadiPac Generation II EC centrifugal fans for use in air-handling units (Ebm Papst A&NZ)
Climate Wizard: Breaking the Wet Blub Barrier! (Seeley International)
ECFanGrid—Efficient—Reliable—Flexible (Rosenberg Australia)
AHRI certified Plate Heat Exchanger and their contribution to HVAC industry to optimise power consumption (Alfa Laval)
Applied Research Activities of the SBRC (Sustainable Buildings Research Centre, University of Wollongong)
Alternate Refrigerant Systems–Transcritical/NH3 Systems (Heatcraft)
According to the ARBS website, Samsung Electronics' presentation focused on their 360 Cassette range. Ebm Papst's presentation focused on their RadiPac EC centrifugal fans. Seeley International's presentation focused on their indirect evaporative coolers and why Climate Wizard broke the wet bulb barrier. Rosenberg Australia's presentation focused on their ECFanGrid system and the SBRC's presentation focused on their projects that have assisted in improving buildings and Alfa Laval's presentation focused on AHRI certification. Rachel, RACCA Australia's Administration Assistant attended Ebm Papst's, Heatcraft's and the SBRC's presentations. The Ebm Papst presentation provided more details on its RadiPac centrifugal fans, which include but are not limited to: a high performance impeller, an EC motor and an integrated drive and interface. The SBRC presentation provided more details on some of their projects which included a Coolroom project with BlueScope steel, projects on UOW facilities and an energy efficiency study on 200 homes. While Heatcraft's presentation focused on an overview of their alternate refrigeration system designs available in the context of a brief history of refrigerant updating in the Australian market.
ARBS Day Two didn't just end with the exhibition, everyone went on to Crown Palladium dressed in their best cocktail party attire to celebrate the industry's best and brightest with the ARBS Industry Awards Dinner.
Image via RACCA NSW.