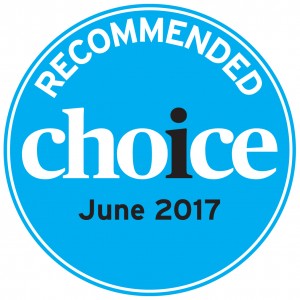 Fujitsu General has been recognised and given the CHOICE Recommended stamp of approval on four air conditioning units in the Lifestyle range.
The test outcomes are reliant on analysis by CHOICE of test results in key categories including: cooling efficiency, heating efficiency, brand reliability, and brand affordability. This year, the Fujitsu inverter reverse cycle air conditioning systems that met the CHOICE Recommended criteria were: ASTG18KMCA, ASTG24KMCA, ASTG30KMTA, and ASTG34KMTA. This is the second year in a row that these four systems have been awarded a CHOICE Recommended stamp of approval, with the stamp previously being awarded in March and September 2016.
Fujitsu General Manager–Sales and Marketing, Dave Smith, emphasised how the CHOICE Recommended stamp of approval highlights the quality of Fujitsu General's products.
"Receiving the CHOICE Recommended stamp of approval highlights the continued quality and efficiency of Fujitsu General products. This is a testament to the strength of our research and development, and the brand's focus on constantly challenging new ways of thinking to improve customer satisfaction.
"Being recognised as a CHOICE Recommended brand further reinforces Fujitsu's commitment to being Australia's favourite air and providing up-to-date, efficient technology such as Human Sensor Control and inverter technology offered in unison with first-class Fujitsu Assist aftercare service from our dedicated in-house team."
Fujitsu will be providing CHOICE Recommended stickers for display so consumers can easily identify the qualifying units.
This story and the accompanying image were provided courtesy of WriteAway Communication + Events. This story was edited slightly prior to publication.