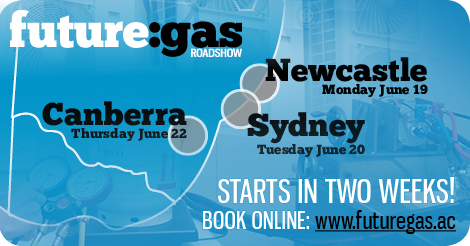 Seven of the refrigeration and air conditioning industry's top experts are headlining this year's future:gas refrigerant seminar roadshow.
The seminar roadshow is aimed at businesses and technicians working in installation, service and repair of refrigeration and air conditioning technology.
The mid-week evening events will be held in 12 locations between June and September, delivering vital information to an industry that is now preparing for systems and equipment filled with or designed for a number of new refrigerants–HFOs, CO2, NH3, and lower global warming potential (GWP) HFCs such as R32.
These refrigerants and the components and systems designed for them will present significant changes to the tools, working practices, standards, and workplace safety considerations relating to installation, repair, service and refrigerant recovery.
Among the expert speakers are people from major global refrigerant and equipment manufacturers, Australian industry associations, and the organisation that safely destroys refrigerant at the end of life.
Greg Picker: Executive Director, Refrigerants Australia–why existing refrigerants are being phased out and why supplies will remain for servicing older equipment.
John McCormack: Former Director, Chemours Chemicals and Fluoroproducts Australia, and Kylie Farrelley: Forane Business Manager, Arkema Australia–Introduction to HFO refrigerants and lower GWP HFCs such as R32, including a comparison with the products they are replacing.
Mark Padwick: Managing Director, Sanden Australia, and Rene Le Miere: Marketing and Business Development Manager, BITZER Australia–Introduction to CO2, NH3 and HC refrigerants plus their handling characteristics.
Kevin O'Shea: National President, Refrigeration and Air Conditioning Contractors Association–Overview of the tools, working practices and equipment standards from a contractor's perspective.
Michael Bennett: General Manager, Refrigerant Reclaim Australia–Master of Ceremonies, providing an introduction to how RRA helps keep our industry clean.
Kicking off in Newcastle on June 19, the future:gas seminar roadshow will conclude in Albury on September 7. Seminars will also be hosted in Adelaide, Brisbane, Canberra, Darwin, Hobart, Melbourne, Perth, Rockhampton, Sydney and Townsville. With entry priced at just $10, the future:gas seminars are designed to be as accessible as possible to those working in refrigeration and air conditioning.
Attendees to future:gas seminars will be among the first in Australia to receive a comprehensive overview of new-generation refrigerants and the related technologies in one knowledge-enhancing evening.
Refrigerants Australia, Refrigerant Reclaim Australia, RACCA, AREMA and ARC, identified a need for a seminar roadshow designed to inform and educate thousands of technicians and businesses about the new refrigerants and technologies they will soon be encountering.
Much of the refrigeration and air conditioning industry lacks awareness or is confused by conflicting messages or misinformation about the new HFOs, CO2, NH3, HCs and lower GWP HFCs such as R32. So there is a pressing need for this campaign of seminars.
Creating by the industry, for the industry, the future:gas seminars were originally run for the automotive sector in 2016, with great success and gained international attention as the first refrigerant education campaign of its kind in the world. The 2017 stationary sector roadshow builds on this proven successful format.
More information on the future:gas seminars, including where to register, can be found here.
This story and the accompanying image were provided courtesy of future:gas. This story was edited slightly prior to publication.