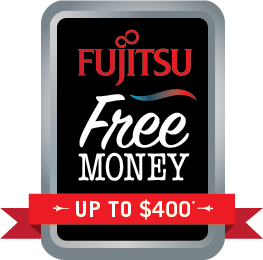 The trail-blazing Free Money promotion launched by Fujitsu General has evolved since it's establishment over a decade ago.
Launched in 2006, the Free Money promotion has provided consumers and retailers with even more compelling reasons to invest in Fujitsu General reverse cycle air conditioning this winter.
Running from today until 31 July, consumers who purchase a Fujitsu General reverse cycle inverter split system, reverse cycle inverter multi split system, or a reverse cycle inverter ducted system, will receive a choice of reward to the value of $150, $200 or $400, depending on the air conditioning system chosen.
Fujitsu General's General Manager–Sales and Marketing, Dave Smith, emphasised how the Free Money promotion has evolved and how successful the evolution has been so far.
"The Fujitsu Free Money promotion is one of the most successful category promotions and we wanted to have a stronger point of difference to make it more engaging for consumers.
"The new look Free Money promotion provides eligible consumers with the flexibility to choose their reward. Options include a Fujitsu pre-paid Visa card, or for the first time, a Digital Reward to the maximum value of $400. With the introduction of Digital Rewards, approved customers can receive their reward must faster. Fujitsu wanted to make this popular promotion as flexible as possible to meet the different needs of consumers."
Fujitsu has developed new creative ways to support the 2017 winter promotion. The campaign theme focuses on the 'evolution of home heating' and features long-term ambassador and former Australian cricket captain, Mark Taylor. Seen in a variety of historical personas dramatising the different ways humans have kept warm over time, Mark shows that a Fujitsu reverse cycle air conditioning system is the most modern in the line of evolution.
This story and the accompanying image were provided courtesy of WriteAway Communication + Events. This story was edited slightly prior to publication.