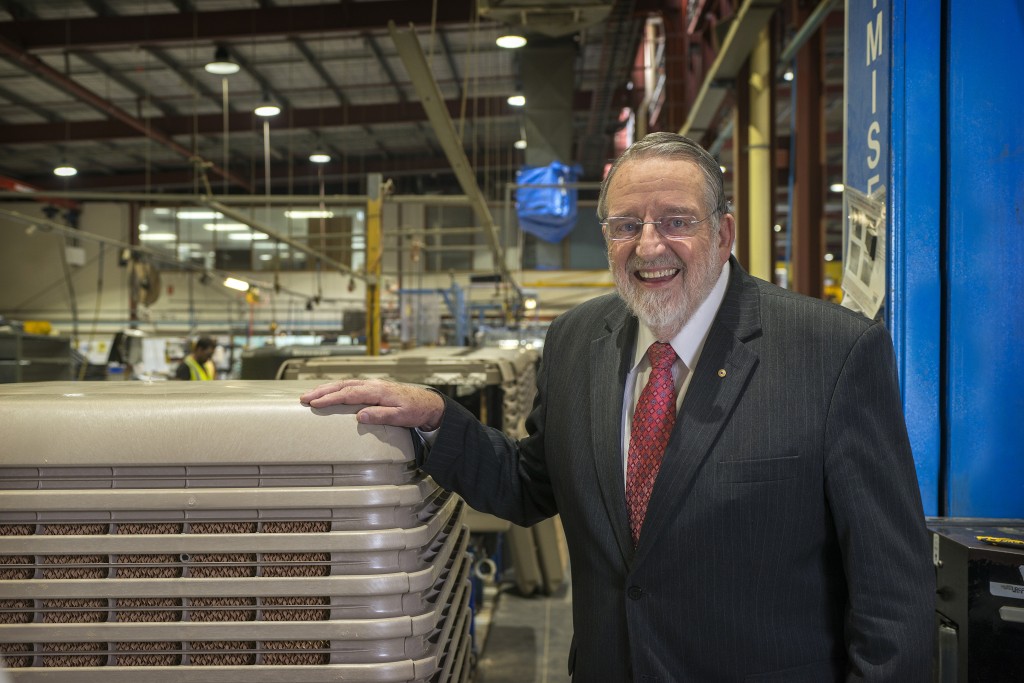 Seeley International has successfully completed the world's largest order for evaporative air conditioners, resulting in around 50,000 Australian-made Breezair air conditioners being installed in the Saudi Arabian tent city of Mina Valley.
Seeley International Founder and Executive Chairman, Mr Frank Seeley AM FAICD, said the enormous bulk order of Breezair evaporative air conditioners by the Saudi Government and Ministry of Hajj, provides state-of-the-art cooling for Makkah Pilgrims during their stay in the Mina Valley tent city. The tent city is a fascinating logistics exercise involving more than 100,000 tents and houses, approximately 3 million people in over 20 square kilometres.
"Our Breezair evaporative air conditioner was found to outperform more than 200 other air conditioning brands and delivered spectacular results against a comprehensive set of criteria that included energy efficiency, reliability, performance, and low environmental impact.
"The three year tender evaluation process saw Breezair and other contenders tested on site over several months, in all conditions and seasons, including comparative tests done during a pilgrimage to assess performance under real-world conditions. The in-built safety mechanisms, economical use of water, ease of control, and compact design were critical in Breezair being successfully selected.
"The harsh summertime temperatures in the Mina Valley, which can easily reach more than 45oC were overcome by the capability of Breezair evaporative air conditioners, which kept people comfortable and provided them with fresh, naturally cooled air."
Seeley International Sales Director, EMEA, Mr Xavier Delaigue, stated being awarded the significant supply contract reflected the strength, innovation and durability of Breezair evaporative air conditioning, and provided an opportunity for Seeley International to showcase its ability to deliver on the large scale order within a very short time frame.
"As part of a commitment by the Saudi Government and Ministry of Hajj to improve accommodation for pilgrims in the Mina Valley, a four year air conditioner replacement plan was started in 2015. Seeley International fast-tracked production and installation so the project is now well ahead of schedule and expected to be completed during 2018.
"Breezair is the coolest, quietest and most energy efficiency evaporative air conditioner in the world, providing clean, filtered fresh air. Unlike refrigerated air conditioning, the cool air won't dry out the skin, nose or eyes. With far superior energy efficiency, along with the added health benefits that come with bringing continual fresh air into a room, rather than recycling stale air, these factors combined helped Breezair to be selected.
Delaigue went on to thank Alsaeed Trading Group CEO, Salman Alsaeed, for providing a turnkey solution on time and within required specifications. Alsaeed HVAC commissioned and supervised this very large and specific installation and does so for every pilgrimage.
Salman Alsaeed praised Seeley International for their work and also emphasised the importance of energy efficiency in Saudi Arabia.
"We have enjoyed a long and highly successful partnership between our two companies, and the success of this project is because of the excellence of Seeley International in delivering the most reliable coolers on the market with the highest levels of energy efficiency.
"The issue of energy efficiency is of great importance, and the Saudi Government and Ministry of Hajj want to proactively achieve substantial energy savings. Achieving a 35 percent energy savings in the Mina Valley thanks to Breezair cooling technology demonstrates advanced technology and a strong commitment to the environment."
Breezair air conditioners feature unique Mini-cell, Chillcel pad technology recently developed by Seeley International–the only manufacturer able to offer evaporative cooling pads that are fully manufactured in Australia and specifically designed to maximise cooling in harsh climates.
This story and the accompanying image were provided courtesy of Seeley International. This story was edited slightly prior to publication.