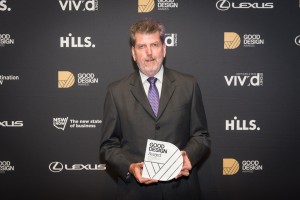 Seeley International's 7-star equivalent* Braemar ducted gas heater has won the Product Design: Hardware and Building Category award at the 2015 Good Design Australia Awards.
The Good Design Australia Awards were established in 1958 and are now regarded as the most prestigious design awards in the world. They formally recognise the very best in design, innovation and creativity at a national and international level, as well as showcase superior examples of good design across a broad range of industries and design disciplines.
Seeley International Founder and Executive Chairman, Mr Frank Seeley AM, welcomed the accolade and stated that it reflected the company's commitment to develop products that are simply without peer in the industry.
"It is very pleasing to receive external independent recognition of this amazing Braemar ducted gas heater and receive an award that pays tribute to our unwavering commitment to ever-continuing research, development and innovation.
"Home heating is one of the biggest domestic energy consumables and savvy consumers can now confidently invest in an energy-efficient product to heat the entire home and save up to $438 per year in running costs when compared to a ducted reverse cycle heater**."
The new Braemar ducted gas heater, which is manufactured by Seeley International at its factory in Albury is available in a 26.6kW capacity with natural gas and is suitable for internal installations. Its line-up of quality features include the recently released MagIQtouch touch screen controller, optional zoning for up to ten areas, Australia's first and only inverter motor for ducted gas heating and on/off programmable settings. It also has a seven-year comprehensive warranty and a 10-year heat exchanger and burner warranty period.
*Star rating equivalent, based on Australian Gas Association's calculated tests.
**Seeley International's calculation, using publicly available data (2013) adjusted to the Braemar 7 star equivalent ducted gas heater, compared to an electric reverse cycle ducted air conditioning system with COP of 3.4 for a heated area of 250m2. Based on 900 hours running per year. Peak electricity tariff–27.7 c/kWh. Off-peak electricity tariff–16.6 c/kWh. Marginal natural gas tariff–1.50c/MJ. Actual costs for your house will depend on the area heated, how long you run the heating for, your thermostat settings, how well insulated the house is, your energy tariffs and your local climate.
This story and the accompanying image were provided courtesy of Seeley International. This story was edited prior to publication. The accompanying image is of Mr Con Cummings who was accepting Seeley International's Good Design Australia Award on behalf of Mr Frank Seeley.