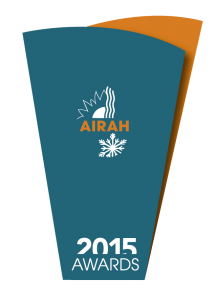 Nominations are open for the AIRAH Awards 2015.
The annual AIRAH awards aim to acknowledge the HVAC&R industry's outstanding achievements and are open to individuals, companies, corporate bodies, institutions and government bodies. This year's Awards acknowledge recognise the work carried out during 2014.
AIRAH have stated in a media release that they have reviewed the award categories this year, resulting in an addition of a new category–Product of the Year. This new category is dedicated solely to products and is the only category for which products can be nominated. This new category ensures that comparable entries compete alongside each other.
The other awards categories for the AIRAH Awards 2015 are–Future Leader, Student of the Year, Best HVAC&R Retrofit or Upgrade, Excellence in Sustainability, Excellence in Innovation and Excellence in HVAC&R Research. There is also the Denis Joseph Award for Innovative Use of Solar Energy in HVAC&R, which recognises Australian initiatives that through the innovative use of solar energy significantly improve the performance of HVAC&R systems. There is also the W.R. Ahern Award, which recognises the best technical paper by an AIRAH member published in Ecolibrium in 2014 and there is also the James Harrison Medal, which is the highest honour AIRAH can bestow on an individual.
The AIRAH Awards 2015 nominations opened on Monday June 29 and will close on Monday August 3. The AIRAH Awards 2015 presentation dinner is being held on Thursday November 26 at the Crystal Palace, Luna Park in Sydney. Tickets cost $175 per person and $1650 per table.
This story and the accompanying image were provided courtesy of AIRAH. This story was edited slightly prior to publication.