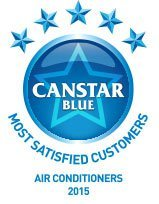 Australia's favourite air, Fujitsu General, has been awarded the 2015 Canstar Blue 'Most Satisfied Customers' award for air conditioners. Highly regarded by consumers, it is the second time* Fujitsu has won the annual survey, and strengthens its reputation as a trusted and reliable air conditioning solution.
The Canstar Blue survey asked Australian consumers to rate their experience from a choice of seven international air conditioning manufacturers, with Fujitsu General achieving five stars across the following criteria: value for money, reliability, after sale service, functionality and quietness. 
According to Canstar Blue, nearly half the respondents consider energy efficiency as the deciding factor when selecting an air conditioner. Survey participants also indicated that household costs related to air conditioning equates to around 24 per cent of their total electricity spend, making the search for an efficient model even more imperative. 
"Earning this recognition for a second time reflects Fujitsu General's strong position in the market," said Dave Smith, general manager – sales and marketing, Fujitsu General. 
"It also demonstrates that we are providing consumers with excellent products that include energy management features. This includes the Fujitsu Human Sensor technology, which is now standard across its range of air conditioning systems. Human Sensor automatically switches to economy mode if no movement is detected in the room, making it a practical inclusion designed to help homeowners manage their energy usage." 
* Fujitsu General also won the 'Most satisfied customers' Canstar Blue award in 2012.
This story and the accompanying image have been provided courtesy of WriteAway Communications + Events.