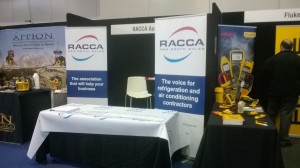 RACCA NSW attended the Refrigeration and Air Conditioning Expo (RACE) 2015 at the Sydney Showground last week.
On Wednesday (12 August), RACE started at 2pm and concluded at 8pm. Rachel, RACCA NSW's Administration Assistant, attended two presentations—one on the R22 phaseout & R427a and another on gas detection systems.
Kylie Farrelley from Arkema gave the presentation on the R22 phaseout and R427a. Farrelley provided information on the R22 phaseout, as well as compared R427a and R438a as R22 replacements. Farrelley emphasised the pros and cons of both R427a and R438a. The pros of R427A include better capacity, a higher critical temperature and a lower Global Warming Potential (GWP) while the pros of R438a include not having to oil change. The cons of R427a include having to oil change to POE and the cons of R438a include a higher GWP and a lower capacity.
Jose Marques from Danfoss gave the presentation on gas detection systems, explaining the benefits of refrigeration monitoring such as protecting sensitive products and meeting legal requirements. Marques also outlined the different detection systems out there—semi-conductor, infrared and electrochemical—and also detailed some of the pros and cons of these systems. For example, semi-conductor detectors have the advantage of a fast response time and long life span, however they are not selective and have poor low level detection. In comparison, infrared detectors have the advantages of high accuracy and no cross sensitivity, however they have a higher initial capital cost. Marques also emphasised that detection systems should be checked at least once a year.
On Thursday (13 August), RACE started at 11am and again concluded at 8pm. Isaac Morian from Regal Beloit gave a presentation on the benefits of variable speed drives, which include being suitable for both commercial and industrial buildings, as well as their ability to reduce energy use by 90 percent. Jose Marques and Peter Tiivel from Danfoss also gave two presentations on electronic controllers and Coolselector 2 respectively.
Shannon Egan from Bitzer also gave a presentation on Bitzer's Evolution condenser series. Iain Skelton from Carel Australia gave a presentation on the changing demands for today's Cold Rooms, which included end users' expectations for higher energy efficiency, end user compliance and the need for more precise controls, such as Bitzer's SmartCella and UltraCella range. There were also presentations by Clive Withinshaw from Carel Australia on HACCP Australia, Scott Addison from Parker Hannifin on variable speed drives in RAC and HVAC applications, Simon Bradwell from EBM Papst on EC fan retrofit solutions and Anthony Harrigan from Rothenberger on system tune up and analysis with the Rothenberger digital manifold, however Rachel was unable to attend those presentations so she could be at the RACCA stand attending to enquiries.
Attendees at RACE included: Refrigerant Reclaim Australia (RRA), Robertshaw, Rothenberger, Reece, Metalflex, Sky Refrigeration, Appion (my stand neighbour to my right), Fluke (my stand neighbour to my left), Mitsubishi Heavy Industries, Milwaukee, Tecumseh, Actrol, Arkema, S&P Kruger, Parker Hannifin, CRH Australia, Pro Pipe Supplies,  HVACR Supplies, Armacell, RectorSeal, Ziehl-Abegg, Go Distribution, Hydrocell, Pumpmates, Danfoss, Bitzer and EBM Papst.
Although the turn out wasn't as big as the majority of us would have liked, it was a show well-worth being at. For Rachel it was quite the learning experience and she got to make some new industry friends. Hopefully there will be a bigger turn out next year and some of our beloved RACCA members will be able to come.
RACCA NSW's stand at RACE (Image via RACCA NSW)