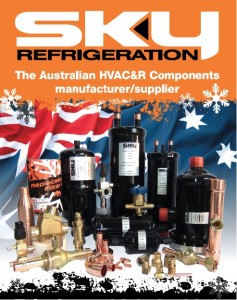 Australian local refrigeration component manufacturer, Sky Refrigeration has opened its third factory in as many years.
Sky Refrigeration manufactures a significant amount of its brass components in Melbourne and has recently expanded its range of components designed for CO2 and other new refrigerants.
Sky Refrigeration founder, Pete Schey stated that "the Australian refrigeration industry does thing differently to other parts of the world–partly due to our isolation and is it is therefore important that local needs be met."
Sky Refrigeration will soon be adding more innovative product lines, including those designed for ammonia systems. To round out its range, Sky Refrigeration is also the authorised Australian agent of five of the world's market leaders–Mueller, Westermeyer, Sanhua, BVA Oils and Harris.
Sky Refrigeration also carries out Australian Quality Assurance inspections and procedures on-site across its entire product range, including the use of a ballistic test chamber for Australian Standards pressure testing.
This story and the accompanying image were provided courtesy of Sky Refrigeration. This story and the accompanying image were edited prior to publication.