This feature is a compilation of all ARBS 2014 related articles (with slight alterations) that were published on the RACCA Australia website.
ARBS 2014 was a huge success.
ARBS 2014 was held in Melbourne from May 22-24 at the Melbourne Convention & Exhibition Centre. According to AREMA's Exhibition Report, ARBS 2014 hosted a total of 7,774 visitors, a five percent increase from ARBS 2012.
Keynote speakers included MIRVAC's Sustainability General Manager, Paul Edwards, and Victorian Minister for Planning, Matthew Guy.
The ARBS 2014 seminar program included: a panel discussion on the adaptability of buildings for climate change, a Building Information Modelling (BIM) panel discussing the uses of BIM from multiple perspectives and a super panel focusing on multiple topics. Other panel topics included but were not limited to: the future of refrigeration, the adaptability of buildings for climate change, surgical clean room technologies, the repeal of the carbon tax, the phasedown of HFCs, fan efficiency standards and developments in pumping systems for the building services sector.
As well as seminars, keynote speeches and discussion panels, there were also presentations. Fujitsu gave a presentation on its four star NABER rated data centre and the Energy Efficiency Council gave a presentation on multiple topics ranging from R32 to glazing and building envelope thermal properties.
The WorldSkills Australia National Refrigeration Competition was also held at ARBS 2014 with 10 technicians from all states of the country, competing for a position in the 2015 Team Australia Skillaroos. Beau Kupris from NSW ended up winning the coveted position.
The PRIME initiative was also launched at ARBS 2014. The initiative was developed by a coalition of stakeholders from within the Australian heating, ventilation, air conditioning and refrigeration (HVAC&R) industry. Key stakeholders are united in developing low-emission solutions for the essential HVAC&R services we all depend upon. PRIME stands for the five pathways to transition to low-emission practices and technologies: Professionalism, Regulation, Information, Measurement, and Emission abatement.
RACCA was represented by RACCA Australia and NSW President, Kevin O'Shea, RACCA VIC/TAS President, Robert Taylor and RACCA QLD President, Brian Vaughan.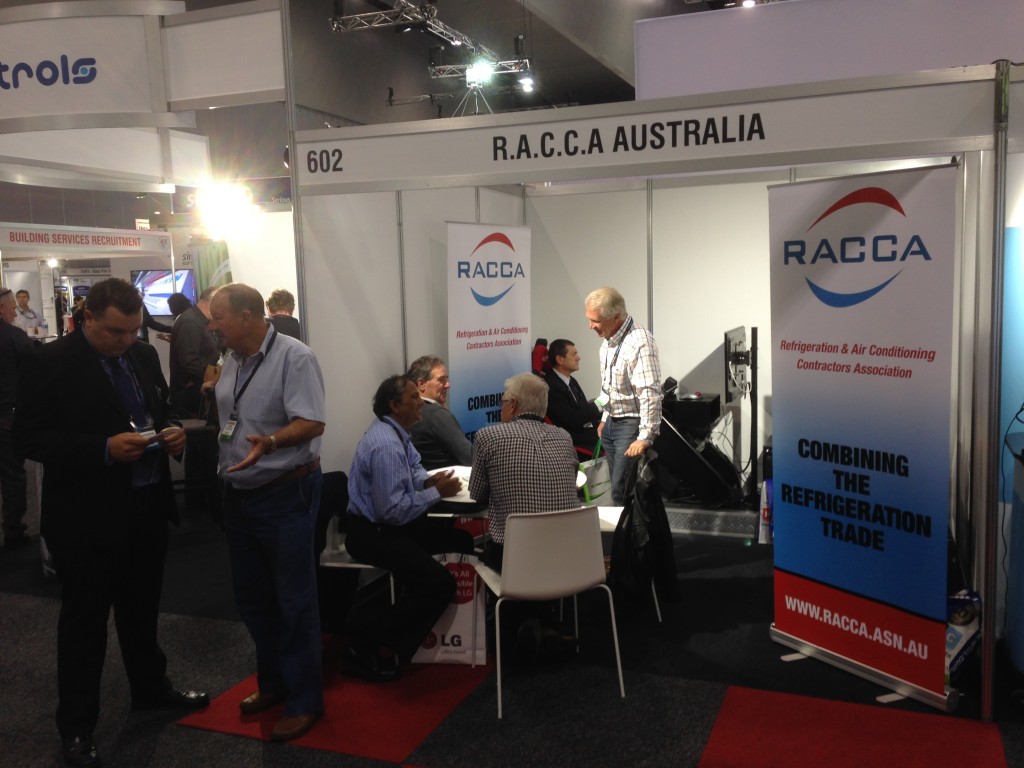 Image via RACCA.