This article was published in the May 1994 edition of Celsius and written by Bob Ryan, then-Development Manager of Specialty Gases at CIG.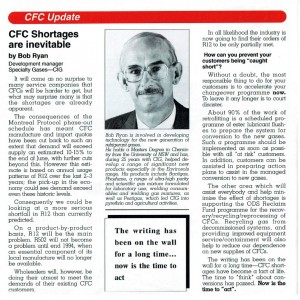 Image via Celsius Magazine (May 1994)
It will come as no surprise to many service companies that CFCs will be harder to get, but what may surprise many is that the shortages are already apparent.
The consequences of the Montreal Protocol phase-out schedule has meant CFC manufacture and import quotas have been cut back to such an extent that demand will exceed supply an estimated 10-15 percent to the end of June, with further cuts beyond this. However this estimate is based on annual usage patterns of R12 over the last 2-3 years; the pick-up in the economy could see demand exceed even these historic levels.
Consequently we could be looking at a more serious shortfall in R12 than currently predicted.
On a product-by-product basis, R12 will be the main problem. R502 will not become a problem until end 1994, when an essential component of its local manufacture will no longer be available.
Wholesalers will, however be doing their utmost to meet the demands of their existing CFC customers. In all likelihood the industry is now going to find their orders of R12 to be only partially met.
How can you prevent your customers being "caught short"?
Without a doubt, the most responsible thing to do for your customers is to accelerate your changeover programme now. To leave it any longer is to court disaster.
About 90 percent of the work of retrofitting is a scheduled programme of ester lubricant flushes to prepare the system for conversion to the new gases. Such a programme should be implemented as soon as possible with all "at risk" customers. In addition, customers can be assisted in preparing action plans to assist in the managed conversion to new gases.
The other area which will assist everybody and help minimise the effect of shortages is supporting the ODS Reclaim Fund programme for the recovery/recycling/reprocessing of CFCs. Recycling gas from decommissioned systems and providing improved equipment service/containment will also help to reduce our dependence on new supplies of CFCs.
The writing has been on the wall for a long time–CFC shortages have become a fact of life. The time to "think" about conversions has passed. Now is the time to "act".