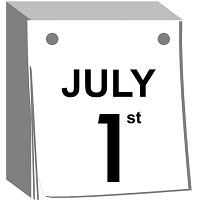 There is a tendency for laws, rules, regulations and obligations to change or take effect from July 1 (aka the financial New Year) in Australia. So what is changing in Australia from tomorrow onwards?
News.com.au have published an article detailing the variety of changes that will be taking place from tomorrow onwards. These changes revolve around many business and work related issues such as: the minimum wage, superannuation changes and power prices.
The national minimum wage has increased by 3.3 percent. According to News.com.au, this will give 2.3 million Australian workers their biggest pay rise in six years. Workers will now be paid $18.29 per hour which will equal $694.90 per week. Unions and business groups were reportedly against the increase, especially as it would affect those who are subject to penalty rate cuts, which also come into effect from tomorrow.
There are significant changes to superannuation, from tomorrow, the option to salary sacrifice extra into superannuation accounts above the compulsory contribution will be available to go towards a first home deposit. The contributions have a maximum of $30,000 in total and $15,000 in a single year. Those contributions can be withdrawn from July 1 next year. Other changes to superannuation include: low-income workers being able to claim a new tax offset of up to $540 a year, high income earners having to pay extra tax on contributions, and retirees' being hit with a new limit on how much super they can transfer into their account.
Power prices are due to increase in NSW, Queensland and SA with AGL, Origin and EnergyAustralia announcing increases of up to 20 percent.
Other changes from tomorrow onwards include but are not limited to: the introduction of a Netflix tax, the abolishing of the green outgoing passenger card for international travel, a partial unfreezing of the Medicare rebate, the abolishing of stamp duty for first home buyers in Victoria, and the increase of the Foreign Investor Surcharge Duty and annual land tax which will affect property investors.
News.com.au's article can be read in full here.
Image via Pixabay.