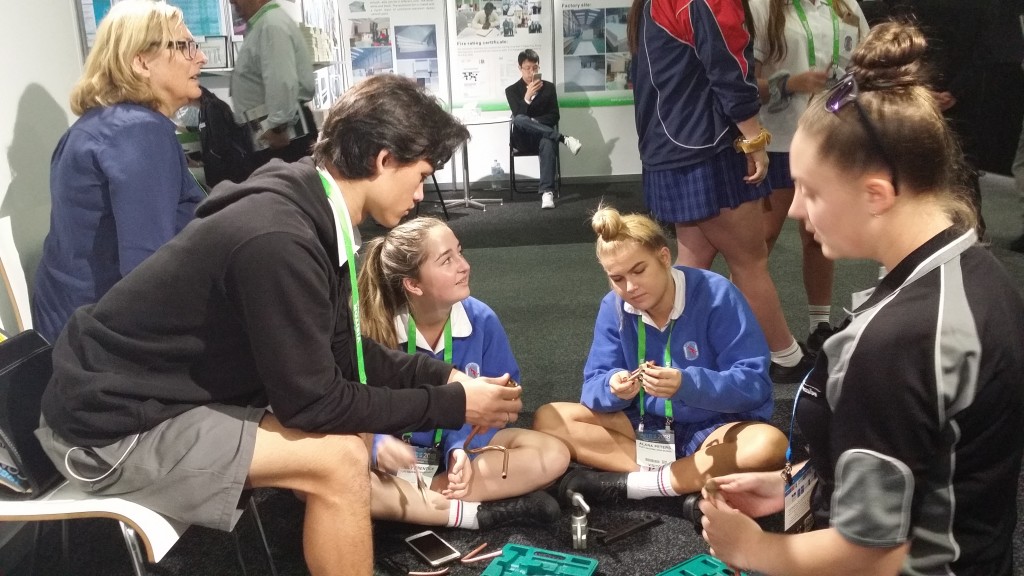 Day 2 of ARBS 2018 opened its doors to an eventual total of 4,095 visitors, which would be the highest number of visitors across the three days.
It was a busy day for the RACCA Australia team as they invited students from Port Hacking High School to attend ARBS to "try a trade" and learn more about the industry and its career prospects. RACCA Australia had assistance from three apprentices: Amber Perrott-Jones from A.G. Coombs, Marcus Jackson from Equilibrium Air Conditioning, and David Kupka from the BevWizz Group.
The students were split into three groups, each group going with one apprentice, walking around the exhibition, talking to the exhibitors and learning what the industry has to offer. They also observed the WorldSkills National Refrigeration Competition taking place so they could see hard working and passionate refrigeration and air conditioning apprentices at work, and learn about the travel opportunities that can come from the industry's sport.
After their tour of the exhibition and observing the WorldSkills National Refrigeration Competition, the students had the chance to try a trade by learning how to cut, bend and flare copper pipe. Amber, Marcus and David instructed the students on these skills and as you can see in the photos, which you can view here, they had a great time doing so!
What stood out to not only RACCA Australia, but also passing exhibitors and visitors, was the amount of school girls present, only one student in the Port Hacking High School group of visiting students was male, The amount of school girls present and their enthusiasm at learning the trade was very encouraging and a delight to witness, especially as the industry is trying to encourage and entice women into the industry through initiatives such as Women in AIRAH and CCN's two female oriented categories of their HVAC&R Leadership Awards.
Just like the previous day, there were several product presentations that took place on day two:
Launch of ebm-papst AHU Guide (ebm-papst A&NZ)
Critical Design Parameters for Kitchen Exhaust Filtration Design (Airepure Australia)
Positive and Negative Duct Accreditation System (PANDA) (Kenelec Scientific)
Overview on the latest compressor technology and refrigerants/Case study of BITZER IQ module retrofit trial (BITZER Australia)
Improve system efficiency with latest technology from largest line components maker (Sanhua Intelligent Controls)
Rental Equipment Solutions (Aggreko Generator Rentals)
According to the ARBS website, ebm-papst A&NZ's presentation provided hands-on advice for the selection, installation, and use of EC plug fans in AHU's. Airepure Australia's presentation focused on kitchen exhaust filtration design and the current Australian standards in comparison with international practices. Kenelec Scientific's presentation focused on the PANDA from TSI/Airflow Instruments which is a mobile test system that measures and quantifies leakages in ductwork. BITZER Australia's presentation was in two parts providing an overview on the latest technology and refrigerants, as well as focusing on a BITZER IQ module case study. Sanhua Intelligent Control's presentation outlined how their latest technology and designs can help improve system efficiency, and Aggreko Generator Rentals' presentation focused on the rental products they provide.
Just like the previous day, the Speaker Series also had a lot to offer on day two with 7 speaker sessions, 3 panel discussions and 1 site tour:
The Modern Technician: The future of the refrigeration trade (panel discussion)
Barangaroo South District Cooling from concept to operation (speaker session)
Better data for Building Management–Delivering the BIM Promise (speaker session)
Positive Impacts of HFOs in Refrigeration (speaker session)
Barangaroo South District Cooling Site Visit (site tour)
The Business Value of Building Information Modelling (speaker session)
Building HVAC&R resilience for a changing climate (panel discussion)
Using Building Analytics to achieve Optimum Building Performance (speaker session)
Net-Zero Buildings: Australia's vision for a carbon positive future (panel discussion)
MEPS for Fans: New developments on the path towards legislation (speaker session)
Buildings of the future, Green Leasing and the Law of Contracts (speaker session)
RACCA VIC/TAS President, Robert Taylor, RACCA SA/NT President, John Daniels, and RACCA SA/NT Secretary, Larry Moore, were also in attendance on day two.
ARBS 2018 Day 2 didn't just end with the exhibition, everyone went on to the ICC Grand Ballroom dressed to the nines to celebrate the industry's best and brightest with the ARBS Industry Awards Gala Dinner. At the ARBS 2018 Industry Awards Gala Dinner, RACCA nominated Warren Cole to be inducted into the ARBS Hall of Fame.
Image via RACCA.