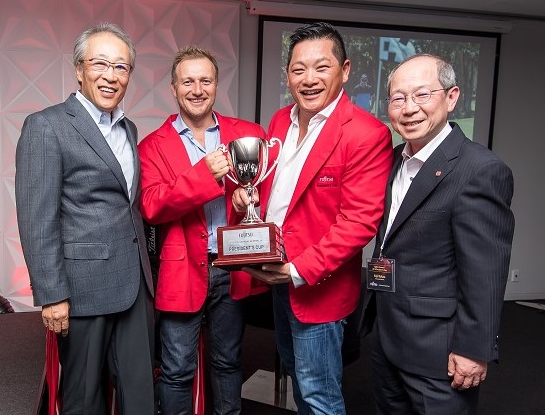 Fujitsu General Australia hosted the popular annual Presidents Cup Golf Tournament for the 18th year at two of Australia's top golf clubs, Twin Waters and Noosa Spring Resort.
More than 98 customers from retail, dealer, commercial and consultant channels enjoyed an 18-hole golf course across both venues overlooking stunning views of the Sunshine Coast and Noosa National Park.
For the first year New Zealand staff, customers and brand ambassador cricketer Stephen Fleming were also in attendance following Philip Perham's expanded role heading up both the Australian and New Zealand business.
"The President's Cup is a unique event allowing the business to build and maintain important relationships by catching up with new and existing customers from all channels in a relaxed environment," commented Philip Perham, Managing Director, Fujitsu General Australia and New Zealand.
"It's a chance for all of us to reflect on the year's achievements and look ahead to next year's business objectives while enjoying some healthy competition playing a round of golf."
The President Cup 2018 results:
First place: Adam Elliot, ACE media and Lionel Lee, Bing Lee
Runners up: John Hallinan, Hallinan Refrigeration & Airconditioning and Ian Molloy, Mint Air
A number of VIPs also attended the day, including:
Etsuro Saito, President Fujitsu General Limited, Japan
Former Australian cricketer, Mark Taylor, Fujitsu General Australia's ambassador
Former New Zealand cricketer, Stephen Fleming, Fujitsu General New Zealand ambassador
Blake Solly, CEO South Sydney Football Club
David Furner, Assistant Coach South Sydney Football Club
Jake Stringer and Michael Hurley, players of Essendon Football Club
Justin Rodski, Chief Commercial Officer Essendon Football Club
This story and the accompanying image were provided courtesy of WriteAway Communication + Events.