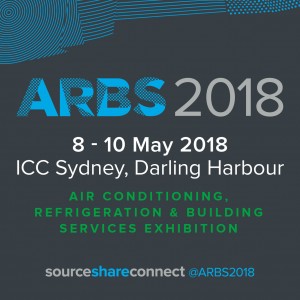 ARBS 2018, Australia's only international air conditioning, refrigeration and building services trade exhibition, has broken all previous records for attendance.
Visitor numbers were higher than the previous ARBS, which was held in Melbourne in 2016, with ARBS 2018 in Sydney recording: 3,191 visitors on Tuesday 8 May, 4,095 visitors on Wednesday 9 May, and 1,976 visitors on Thursday 10 May–a total of 9,262 visitors for 2018. This is an overall increase of five percent.
Running alongside the exhibition was the highly anticipated Speaker Series, which saw a range of panels and guest presenters deliver information relevant to the industry. Attendance at the Speaker Series was impressive with many sessions at full capacity.
Visitors were also able to explore IBTech@ARBS, a new precinct for the 2018 exhibition, which was dedicated to intelligent buildings technologies and solutions. The Product Presentation Theatre was also a hive of activity, with exhibitors presenting product and technology information, updates and demonstrations.
The ARBS 2018 Industry Awards, which honoured those who are achieving greatness in the industry, was held at the ICC Grand Ballroom on Wednesday 9 May. The evening was hosted by Australian media personality, Tony Squires, and was very well received seeing a high demand for tickets to this gala event.
ARBS Chairman, Ian Hopkins, stated that this ARBS raised the bar and was confident that ARBS 2020 can build on from this success.
"The 2018 exhibition has once again raised the performance bar and we look forward to returning to Melbourne in 2020. We are confident 2020 will build on the very solid foundations from this and previous exhibitions."
This story and the accompanying image were provided courtesy of ARBS. This story was edited slightly prior to publication.