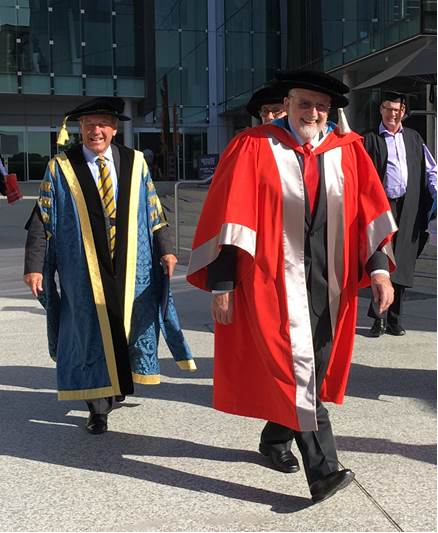 Seeley International have celebrated two educational successes this month–Mr Frank Seeley being presented with an honorary Doctorate and the launch of their new scholarship.
Mr Frank Seeley AM, DUniv Flin, FAICD, founder of Seeley International has been honoured with the distinguished award of the Degree of Doctor of the University, at a prestigious graduating function for 220 Science and Engineering graduands at Flinders University, earlier this month.
Mr Seeley received the Honorary Doctorate from Flinders University for his outstanding entrepreneurship and investment in the local business community. Flinders University Chancellor, Mr Stephen Gerlach AM, presented the doctorate to Mr Seeley stating he is an incredible home-grown success story, coming from humble beginnings to become a giant within the Australian manufacturing industry.
Mr Seeley stated he was greatly honoured to be recognised with this tribute from Flinders University and was overwhelmed by the response of students and parents who approached him with congratulatory good wishes after the graduation ceremony.
"I had plenty of doubters when I first founded Seeley International in my garage back in 1972, but patience, persistence and an unwavering belief in achieving the impossible has seen an idea grow over time to become Australia's largest manufacturer of heating and cooling systems that proudly exports locally designed and manufactured products to more than 100 countries around the world.
"With Australian manufacturing at a cross road, I hope that this honorary degree and Seeley International's unwavering commitment to setting industry benchmarks, serves as proof that Australian manufacturers can have a bright and prosperous future if they are prepared to innovate, automate and accelerate, like there's no tomorrow.
This is not Mr Seeley's first accolade, he was made a Member of the Order of Australia in 2001, and won South Australian Entrepreneur of the Year in 2005. In addition to being state winner of the coveted Jason Lea Award by Family Business Australia in 2010, in 2011 he was named South Australian of the Year, received a Lifetime Achievement Award from Manufacturers Monthly in 2012, was awarded the Ernst and Young Champion of Entrepreneurship in 2013, was named Innovation and Design Executive of the Year by CEO magazine in 2015, and was a Hall of Fame Recipient at the inaugural 2015 IMPACT awards.
During the Flinders University Science and Engineering graduands graduation ceremony, another exciting announcement was made–the new Seeley International HVAC Scholarship. The purpose of The Seeley International Scholarship is to encourage students and researchers with an interest in the field of commercial innovation and sustainability, specifically within the HVAC industry, to pursue industry relevant research with regards to reducing energy costs and creating healthy indoor environments using highly innovative commercial solutions.
The value of each annual scholarship will be $5,000. There will be one recipient awarded each year, with applications for Expressions of Interest being submitted in July each year, and then the successful recipient selected by the appropriate school within the University.
The scholarship is being established from annual philanthropic donations by Mr Frank Seeley.
This story and the accompanying image were provided courtesy of Seeley International. This story was edited slightly prior to publication.