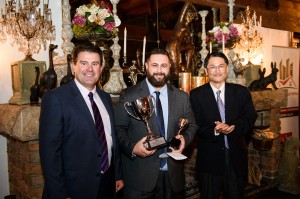 Fujitsu General presented a very healthy outlook for the following year to over 70 delegates at its 18th national conference last month.
Commenting on the manufacturer's fifth consecutive year of growth, Fujitsu General's Deputy Managing Director, Philip Perham announced "…the sleeping giant has woken up".
"Fujitsu is determined to be successful and is committed to investing where necessary to achieve this success, and ensure we understand and deliver our customers' needs," Perham stated.
The three day conference consisted of presentations from all departments within the business, as well as guest presentations from Neil Craig, Essendon Football Club's General Manager – Football Performance, and Michael Maguire, Coach of the 2014 NRL premiers South Sydney Rabbitohs.
Both Craig and Maguire shared insights on what makes a team 'Fit 4 Business', which was the theme for this year's conference.
The national conference is also an opportunity for Fujitsu to recognise outstanding employee contributions and sales performances. Awards for 2014-15 were presented to:
–        Marcus Shepes – Business Development Manager: Retail (Victoria)
–        David Hurry – Business Development Manager: Dealer (Queensland)
–        John McLeod – Business Development Manager: Commercial (Victoria)
The annual Company Distinction Award was presented to Luke Meyers, South Australian Service Supervisor, and Victorian State Manager, David Foley, was the recipient of the highly valued Bill Gillett Memorial Award for the second year running.
This story and the accompanying image of Fujitsu General Ambassador Mark Taylor with Award winner Marcus Shepes and Fujitsu General Australia's Managing Director, Toru Ishizuka, were provided courtesy of WriteAway Communications + Events. This story was slightly edited prior to publication.