This ARBS 2000 special feature was published in the July 2000 edition of Celsius. The author is not listed, however Phil Ross was the editor and publisher of Celsius at the time.

At an industry lunch given in the Melbourne Exhibition Centre, ARBS Chairman, Alan Woodhouse, formally welcomed representatives of the more than 205 national and international exhibitors present at ARBS 2000. Bert Olsen, President of AREMA (Air Conditioning and Refrigeration Equipment Manufacturers Association) officially declared the exhibition open.
Mr Woodhouse described ARBS 2000 as the official "gathering of the tribes". "It is the ideal forum for customers, suppliers, buyers and sellers to get together and see the very latest and best the industry has to offer all under one roof," he said.
"Our industry is confronting some of the most important issues for global populations, including greenhouse gas emissions, the degradation of the ozone layer and public health concerns such as legionnaires disease.
"Exhibitions such as ARBS 2000 present us with an opportunity to show how we as an industry are addressing those issues and create a better understanding of our achievements on a national and global basis," he said.
ARBS 2000 included more overseas representatives than ever before with China, Germany, Italy, India, Korea, Taiwan, Thailand and the US, all strongly represented. The exhibition was a colourful bonanza of ideas, innovations and visually striking displays, which attracted more than 4,000 visitors and 1,600 exhibitor personnel over its three-day duration. Compared to Sydney two years ago, it is 23 percent larger in footprint and 18 percent larger in exhibitors.
Exhibition Manager, Ms Siew-Ling Teh, said at the time that the quality of visitors was well up on ARBS '98 and that feedback from visitors and exhibitors alike had been very positive.
"We were particularly pleased with the keen interest from overseas exhibitors which we attribute to growing recognition of the importance of the Australian market and its geographic advantage for pushing into Asian markets.
"Overall ARBS 2000 has proven to be a key rallying point for the industry in the southern hemisphere," she said. "I think our exhibitors recognised that on a dollar-for-dollar basis exhibiting represents a very cost-effective way for suppliers to reach their target markets. The facility for face-to-face communication backed up by product in operation is something that cannot be achieved with either print or electronic advertising space."
On opening the show, Bert Olsen of Lennox Alcair reiterated Alan's phrase the 'gathering of the tribes'. "I look around me and see competitors, customers, suppliers, innovators, buyers and sellers," he also took it one step further using ARBS as the forum for letting the general public see what our industry is all about.
"And we have a lot to tell…protection of the ozone layer, legionnaires issues, safety and training. ARBS 2000 is a crucial part of that process."
The end of the Opening Ceremony resulted in a musical interlude as the industry presented Bert with a farewell present before he left for his American home–a didgeridoo. Bert has plenty of time to practice before he returns to Australia!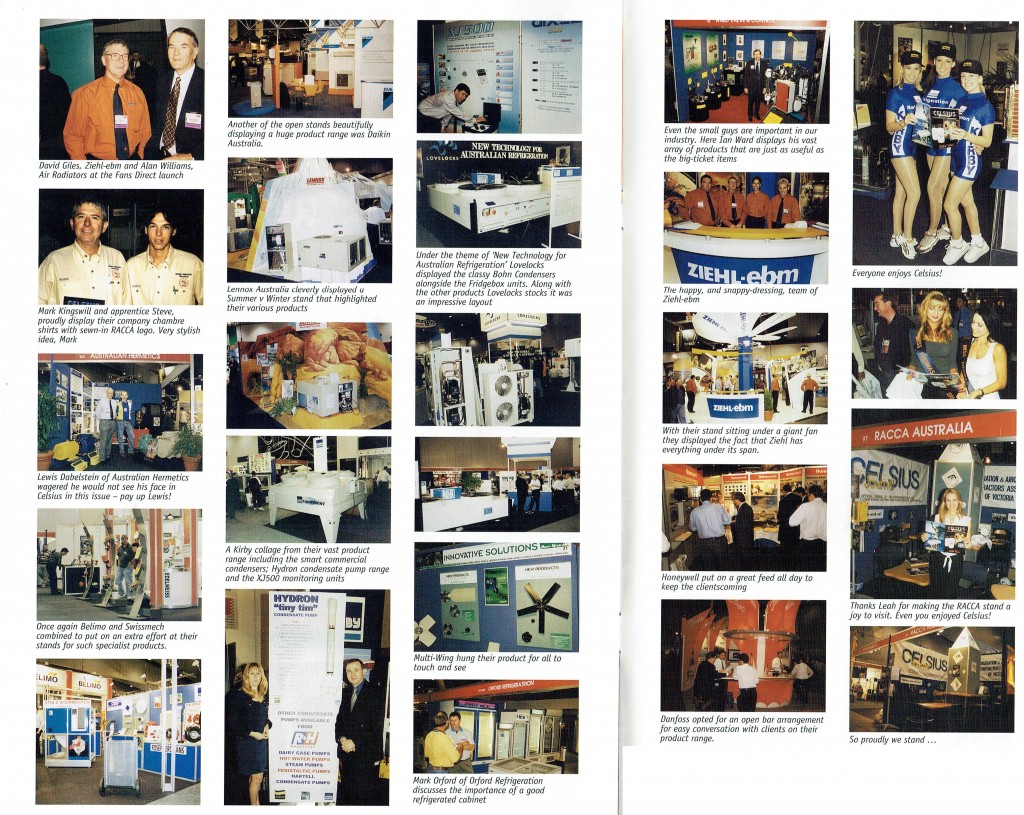 Images of ARBS 2000
Image Source: Celsius (July 2000)