This ARBS 2004 special feature was published in the May 2004 edition of Celsius. The author is not listed, however David Goodwin was the editor and publisher of Celsius.

Newly-elected chairman of ARBS Alan Williams, made his first public appearance in his new position when he welcomed visitors to ARBS 2004 at Melbourne at the formal opening of Australia's third ARBS on May 3.
The joint MD of Grocon P/LK, Daniel Grollo, officially declared ARBS open: opening the doors to 5,365 visitors who came to see the 185 exhibits. Computers clocked the total attendances at 7,065, exhibitor staff accounted for 1,711, and total visitors at 1,683 or 31 percent, and 291 international visitors were admitted.
The first non-American president of the American Society of Heating, Refrigerating and Air Conditioning Engineers (ASHRAE), Richard Rooley of the UK, spoke about the coming together of the two great cultures of manufacturers and construction at ARBS. ASHRAE has 55,000 members worldwide in 102 countries.
He said that travelling around the world, he found things that did not work: "I've almost given up all hope that designers can design systems that can be easily operated and maintained.
"One way of overcoming this is to have standards of manufacturing products that fit together. Commissioning time would be cut if the manufacturing products were familiar and standard. When they are unfamiliar and non-standard you cannot commission a new building in a month. Otherwise it would take years.
"In Australia this isn't the case but in other parts of the world it isn't."
Rooley said: "We have to bring our manufacturers and designers close together."
Officially opening ARBS 2004, Daniel Grollo reflected on the growth of the Grollo empire, going back 50 years in Australia and over three generations growing into what it had become.
"Australia's largest privately owned development and construction company was founded by my grandfather, Luigi Grollo. He started the business in the 1950s when it was a small concreting business and its buildings have changed Melbourne's skyline."
Today the company employs more than 1,300 people involved in every discipline in the development process.
Grollo praised the sub-contractors and suppliers in the industry, without whose support Grocon could never have achieved what it had.
"Our biggest project at present is the Queen Victoria project that includes 60,000m2 of office, car spaces and 594 apartments and 46,000m2  of retail space. We are now building the Eureka Tower which has a 300m high will be the world's highest building."
He said Grocon was now a member of the Green Building Council of Australia, which was involved in lowering the environmental impact of built form and had developed green rating tools.
"Our industry will be instrumental in developing the technology to make green building work.
"This is a great melting pot of ideas and intellect."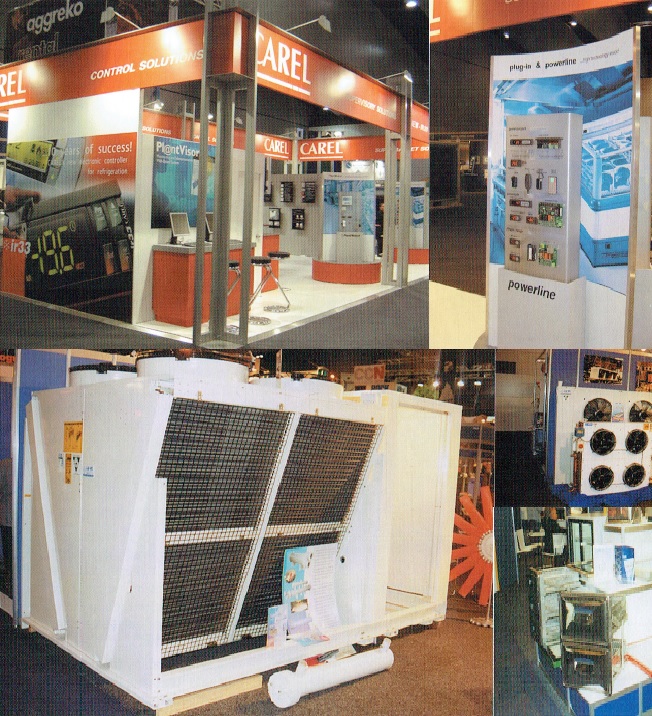 Images of products and stands at ARBS 2004.
Image Source: Celsius Magazine (May 2004)